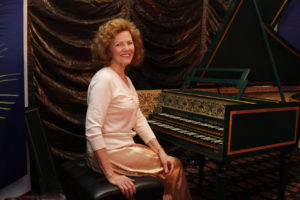 Dr. Anita Boyle Renfroe earned degrees in piano performance with honors from Florida State University under Leonard Mastrogiacomo and Edward Kilenyi, Memphis State University under Daniel Fletcher, and The Southern Baptist Theological Seminary School of Music under Maurice Hinson.  Other principal teachers and mentors have included Carolyn Fruchtman, Nelita True, Marvin Blickenstaff and Webster Teague.
Dr. Renfroe has performed solo piano, harpsichord, and organ concerts as well as in chamber recitals and as a soloist with orchestras in the United States and Europe. Venues in the Washington DC area include the Kennedy Center, Wolf Trap Center for the Performing Arts, the National Air and Space Museum with the Smithsonian Chamber Players, the British Embassy, the Folger Library, the Organization of American States, and the World Bank, as well as appearances with the Fairfax Chamber Orchestra and the Arlington Symphony Orchestra.  Performances in Europe include solo, chamber, and orchestra concerts in Grenoble and Nohant, France and in Frankfurt, Heidelberg, Stuttgart and Winnenden, Germany.
Dr. Renfroe is a nationally acclaimed keyboard pedagogue, clinician, and adjudicator serving the Music Teachers National Association (MTNA) and the National Conference on Keyboard Pedagogy.  She holds Permanent Professional and Master Teacher Certificates from the Music Teachers National Association.  She has lectured and presented her original research to MTNA conferences, the National Federation of Music Clubs, the American Guild of Organists, the International Conference on Keyboard Pedagogy, and to State music teacher conferences across America. She is a member of Pi Kappa Lambda and Alpha Lambda Delta Music Honor Societies.
Dr. Renfroe has conducted research on a wide range of topics including extensive exploration on Felix Mendelssohn-Bartholdy at Oxford University's Bodleian Library, and Baroque ornamentation in libraries in Germany, A sabbatical in 2004 enabled Dr. Renfroe to complete advanced research at the Bibliotèque Nationale and Bibliothèque-Musée de l'Opéra National de Paris, and in the Library of Congress in Washington, DC, on the over-looked piano compositions of Eugene Nollet.  She was awarded a sabbatical for Spring 2014 to research fortepiano repertoire and technique in the US and Europe.
Dr. Renfroe has served as a faculty member in several universities including George Mason University, Salve Regina University, the Southern Baptist Theological Seminary and the University of Memphis. She is Professor Emeritus at the Tell School of Music, Millersville University of Pennsylvania where she served for 22 years as Director of Keyboard Studies and Professor of Piano. She currently lives in Fernandina Beach, Florida and continues to perform, conduct workshops and teach in her home studio.